Track & Analyze
Track all your runs, rides and cross-training too. Upload your activities from your Garmin, Android or iPhone and Strava will automatically log all your workouts.
Sign Up for Free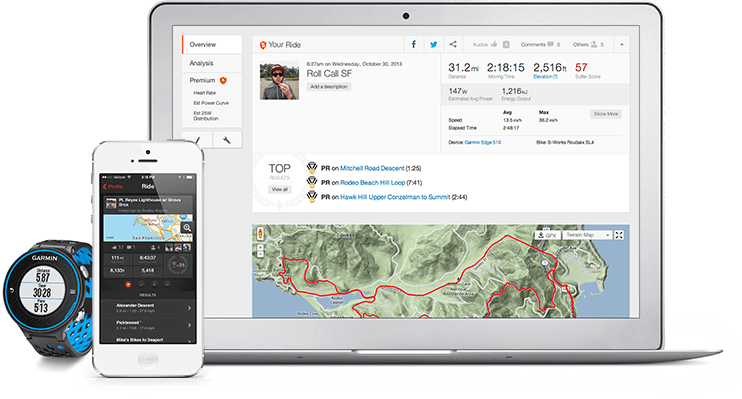 Compare & Compete
Run or ride a segment (specific section of road or trail) and compare your effort against past efforts, as well as other athletes who've run or ridden the same segment. See where you rank and start moving up the leaderboards.
Challenge Yourself
Join ongoing run and ride challenges to help you reach new goals and get ready for race day. Earn some great prizes too!
View the latest challenges →
Go Mobile
Enjoy your favorite Strava features on your iPhone or Android too. Switch from your Garmin to your smartphone to fit your mood - activities from all devices are captured on your activity feed.
Socialize
Follow friends and their activities, join clubs and create new ones. Push each other with kudos and comments.
Explore
Find the most popular and competitive segments anywhere you go. Traveling? Discover the best places to ride and run and take your best shot against the locals.
Gear Up
Keep tabs on your shoes, or record maintenance you perform on your bike. Keep track of the age and status of all your gear and equipment.
Stay Private
Control your privacy settings with ease. Any location or activity can be marked as private and hidden from view.
Go Premium
Discover even more ways to train effectively and stay motivated with weekly progress goals, custom heart rate zones, filtered leaderboards and more.
Learn more about Strava Premium